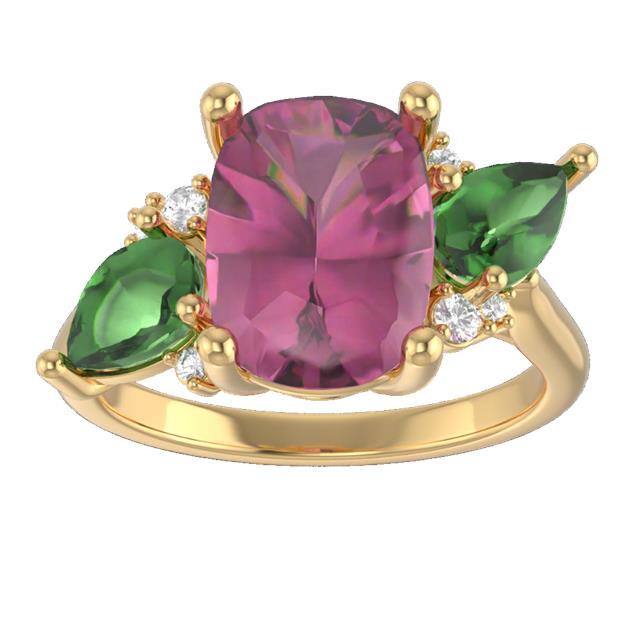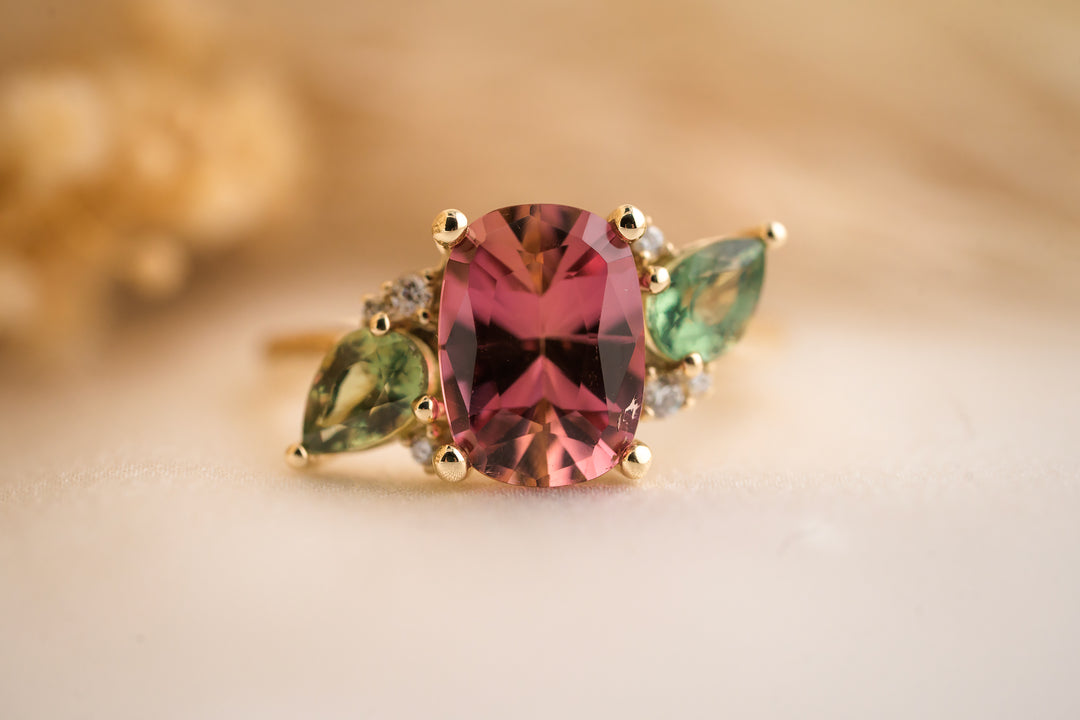 FAQs
custom design process
Our current turnaround time for all custom pieces is 6-8 weeks, from start to finish. We take pride in crafting each piece with utmost care and attention to detail, ensuring that you receive a truly special and one-of-a-kind piece. This timeframe is contingent upon the availability of the desired center stone, and if the specific stone is readily accessible, the process can be as little as 4 weeks. However, in cases where the desired stone requires sourcing, the turnaround time may vary. We assure you that we will make every effort to minimize any delays and keep you informed throughout the process.

To ensure a seamless and stress-free experience, we strongly advise customers with specific proposal dates or special occasions to make arrangements at least 3 months in advance. Planning ahead allows us to cater to your needs efficiently and guarantee a successful event.
We suggest checking out some of our styles on our website or our social media pages to gather what designs and/or gemstones you like, and keep a note of them to use in our custom order form. This gives us a better idea of what look you're after, along with what stones you'd like to use in your piece. 

Compiling a list of questions is also very helpful! We are here to answer any questions you may have about certain gemstones and any other aspect you may be unsure of during the jewelry design process. 
In order for us to provide you with the best possible experience, it is important for you to have a solid grasp of your budget. Conducting research and establishing a spending range will allow us to optimize our services and deliver the most suitable solutions for your needs.
Unfortunately, we do not use customer provided stones, nor do we melt down jewelry to incorporate into a custom piece.
To initiate the creation of your custom piece, whether you're selecting a stone from our online catalog or requiring sourcing, we request a non-refundable deposit of $500. This deposit will be applied to your final quote. The mounting and side diamonds will be invoiced separately once we have rendered your design in CAD. Full payment is required before moving your project into production.
Gemstone Sourcing: We require full payment on any stones that have been sourced for you as soon as a decision has been made.
Diamond Sourcing: We require full payment upfront for all center stone diamonds, as we do not keep diamonds on hand. We will order your stone as soon as it has been paid for, in full.
In-stock Gemstones: If your desired center stone is in stock, you may purchase it directly from our website to reserve your stone. We will reach out to you via email to start the custom design process and send you the link to pay your design deposit. If a stone has not been listed, but it is in stock, or if you have seen one available on our social media, we will set up a custom invoice for the stone and will begin your custom design once the invoice and custom design deposit has been paid. *Please note: we do not sell loose gemstones.
This process includes one CAD modification after the initial design, guaranteeing careful attention to detail. Please be aware that extra CAD modifications or special requests for stone sourcing may result in additional charges.
Absolutely! When opting for a 'from scratch' design, there will be an additional design charge of $600, on top of the ring and stone expenses. You are allowed two alterations from the initial design with a 'from scratch' piece.
Depending on the specific requirements, it may require up to one week for my CAD team to complete the rendering process. If your design is entirely original or "from scratch," the time required could be extended.
Do keep in mind that you are allowed one additional revision to your initial design. Anything beyond the singular design revision will incur a fee. *this does not apply to our 'from scratch' design service.
Upon design approval, full payment is required to move your piece into production.
You will be invoiced via email, and will be able to check out on our website. Your deposit will be applied to your final balance.
Yes! We offer payment plans via Shop Pay Installments, a partnership with Affirm. Please let us know ahead of time if you are planning on using this option for your custom piece, otherwise we cannot accommodate your request.
All LCG pieces are covered under a limited lifetime guarantee against any workmanship or manufacturer defect. It does not cover normal wear and tear, misuse, neglect, or theft.

We will cover the loss of the first melee (small) stone under 0.05ct or any stone up to 1.5mm in length, within the first year of purchase. Please note that center stones are not covered under warranty, so we encourage you to insure your jewelry under homeowners, renters, or an independent insurance company immediately upon receipt of your piece.

We offer repair services for all LCG jewelry resulting from regular usage. We retain the right to determine what constitutes typical wear and tear. Unauthorized repairs conducted outside of Lavender Creek Gems will void your warranty, including ring resizing.
Yes! Brianna will be in constant contact with you throughout the entire process. She will send photos and videos of your chosen center stone, along with your 3D design rendering(s). You will also receive a video of the piece before it is shipped. 
People often ask us whether this holds true, and if we're being brief: sort of. We recreate styles, yes, but creating a piece with the exact same gemstone is almost impossible.
Recreating a one-of-a-kind gemstone ring is challenging due to several reasons:


Unique Gemstones: Each natural gemstone possesses distinct colors, patterns, inclusions, or cuts that render them truly one-of-a-kind. Finding a similar gemstone that matches the exact characteristics of the original can be extremely difficult. Using rare, high quality stones is the most important aspect of LCG, and while we try to accomodate most requests for replications, this is something we strive to keep consistent.

Variability in Gemstones: Natural gemstones are formed under unique geological conditions, resulting in variations in color, clarity, and overall appearance. Even if you manage to find a similar gemstone, it's unlikely to be an exact match in terms of all these aspects.


Exact Measurements: Getting the exact measurements and proportions right for a one-of-a-kind stone can pose some difficulties. Even a slight difference in dimensions can influence how the ring looks and feels. We personally cut about 95% of our tourmaline stones and often mold them to match the natural shape of the rough stone. However, not all rough stones can be transformed into the same shapes you've seen us use in the past. It ultimately depends on the stone's shape and whether any inclusions need to be removed. Gemstone cutting isn't as "cut" and dry as one would think!

Market Fluctuations & Scarcity: The availability and pricing of gemstones can change over time due to market fluctuations and sourcing challenges. This can impact the feasibility of recreating a piece at a similar cost. This holds particularly true in the present moment, more so than ever before. The demand for high quality colored stones is astronomically high, and in turn makes it difficult to source more rare stones.

Short answer: technically, no.
To begin the custom design process, please take a moment to complete our custom order form. We're eagerly anticipating the opportunity to embark on this journey together!